Warning: Don't be fooled by our competitors'
"low" prices. Other dealers are posting "low" prices
that you can't actually get.

How? They are "lowering" their prices by
not including freight
, and using
College Grad only, Military only
and other rebates that very few can qualify for. These tactics can make it look like their prices are up to $2500 lower than ours. But the reality is: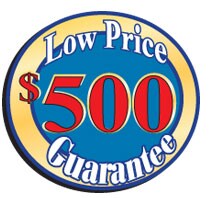 Our prices include freight!!!
We don't add back college grad rebates!!!
We don't add back military rebates!!!
When you add these back in,
OUR PRICES ARE LOWER, GUARANTEED!
Our 100% REAL prices include freight, and do NOT include rebates you can't get. That's how First Team is Cleaning Up the Car Business.
Fast, Friendly, Fair, and 100% transparent pricing - no games, no gimmicks, no surprises. That's Clean Deal Pricing, backed by our $500 Low Price Guarantee.